ads
Today marks our first week of summer vacation. Let the revelry begin!
These photos make me look forward to warm temperatures, bare legs, spontaneous play dates, sun screen, late bedtimes, eating outdoors, and making memories with my girls.
This is our "first craft of summer"! Get a piece of poster board and write down all those goals for the next 3 months. I hung ours in the pantry. It's a great idea for keeping track of all those summer activities and it will be helpful on the days when 'boredom' comes knocking on the door.
What are you looking forward to this summer?
Need some ideas for your list-- check out this link "100 Things to do with Your Kids".
Also I am so happy that one of my favorite crafting blogs "The Crafting Chicks" featured my Rapunzel Party on Friday!!!
Check out the feature and their super creative blog!
In the happiest of our childhood memories, our parents were happy, too. ~Robert Brault
Sunday, May 22, 2011
ads
We took another short trip last weekend, drove from Southern California up Interstate 5 to Medford, Oregon....and on the way saw some very interesting road side art....
The first item is something that we have checked out on each of our trips up Interstate 5....a Cow (Yep, I said a Cow) created from scraps of metal and standing tall and proud on a property in Northern California...
The creator of this great piece used to dress it up for each holiday, I think my favorite was the red, white and blue outfit for the 4th of July...we haven't seen any costumes the last couple of times so I am not sure it still sports it's finery on special occasions...but this is very impressive just the way it is now!
A little bit farther up the road is a relatively new creation. On our trips we watched as this one took shape and each time we drive past it seems to have some new bells and whistles...you can't see them in the photo but there is a solar panel by the side and what appears to be lights the length of the DRAGONS body....I would love to see him all lit up at night!
This spectacular Dragon stands in another roadside field...and he too is created from bits and pieces...amazing what someone can create from scraps of metal!
Farther up the road and just a little while before we cross the border into Oregon is a BARN ROOF that we always look for...it lifts our spirits just to see it!
What a lot of love (and talent!) in this painted message that greets all who drive up the road....This has been there since sometime after 911, as you can see...it is kept in beautiful condition....This has a very special place in our hearts!
If you are taking a car trip somewhere, remember your camera...art can show up just about anywhere!
VE
ads
This is a great find I picked at local auction.
I have been told that this is the Wooden Mail Cart, Antique!
It has
"Royal Mail Cart"
with Patent number on side handle, stamped.
Since it has "Royal" stamed on a handle, I'm assuming it is from either
United Kingdom or Cananda.
It is a wooden pull cart with wheels made of wood spokes and metal.
Very rare indeed!
It will be a great decoration piece for a restaurant, bar or
any furniture store.
I am proud to introduce this piece.
If you know anything about the history or origin about this
mail cart, I would like to hear from you.
Also, I will be happy to be entertained by serious offers.
If you are interested, make me an offer.
Any serious or reasonable offers will not be refused.
Dimension: L 56" x H 30.5"
For further inquiries, pls., contact:
e-mail:
hgk8989@gmail.com
All contents: Pictures, descriptions and writings are copyrighted. Unauthorized copying and use of any contents without written request to the author is strictly prohibited. Copyrighted(c)HigginK 2011.All Rights Reserved.
ads
Picked up both of these tins for $.50 a couple of weeks ago. They'll join my two collections-Candy tins and Bathroom tins.
This one is neat-for Katherine Beecher Butter Mints!
Sorry for the blurry pic-I tried again and again to get a better shot. Here's what the tin says and it's itsy bitty too.
FASTEETH
Dentists Trial Size-Alkaline Denture Powder Net wt .16 oz.
Backside are the directions.
I'm joining Blue Monday at
http://smilingsally.blogspot.com/
and Mellow Yellow Monday at
at 1:37 PM

ads
guitarz.blogspot.com
: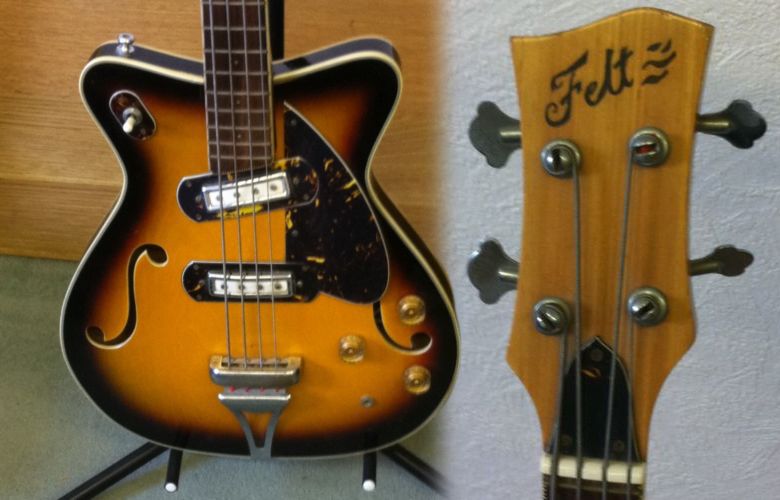 This late '60s
Zenta semi-hollowbody shortscale bass
is quite an interesting one. The angled neck pickup (and the end of the fingerboard) looks to be distinctly Mosrite-influenced, whilst the symmetrical shape and the S-holes combine to present an attractive instrument. Although the seller refers to it as a Zenta, the headstock clearly proclaims "Felt" (although looks suspiciously as if it were done by hand) but no mention is made of this in the eBay listing.
This post originates at http://guitarz.blogspot.com - beware of those damned scraper blogs!
Currently listed on eBay with a starting bid of £225.
Edit
: As Greg Cadman points out on
our Facebook page
, it's probably a copy of a Martin guitar (
this one
for instance, complete with the S-holes!).
G L Wilson
© 2011, Guitarz - The Original Guitar Blog - now in its 10th year!
at 12:57 PM

ads
Yesterday was very productive. I got my house cleaned up, laundry done, front deck cleaned off and organized, had a barbeque with some great friends and made duct tape dress forms with my friend Lydia.
Today has been so beautiful and finally NOT raining that I decided I could safely scrub and paint these old wire baskets that I've had for a while.
Had to take a wire brush to them as they were very rusted and then I spray painted them white with a rust blocking paint. I plan to sew up some burlap liners for them. I think they are going to look very nice in my studio...
We also got the rest of our garden planted. Yes we got a late start but I think it's gonna be alright.
Rodney found some neat colored carrot seeds and Abbi was excited to plant them...
Rodney's ankle is healing, as you can see he still has to wear a strong ankle brace on it, has metal supports on both sides....
William even came out to help plant...
Now we're off to another barbeque/ high school graduation celebration/ paintball party. The kids are going to have a blast!
Hope your weekend went well too!
Hugs!
at 10:57 AM

ads
Tears For Fears, Everybody Wants to Rule the World
How about you?
at 9:23 AM

ads
Before
Jezebe
l and before
Gone with the Wind
, Leslie Howard and Bette Davis were young actors signed by Warner Brothers who were struggling to get the kinds of parts that they knew would best showcase their talents. Both Davis and Howard had starred in Robert Sherwood's Broadway hit,
The Petrified Forest
about a group of people from vastly different backgrounds who are held captive in an Arizona diner by a ruthless gangster, Duke Mantee.
When Warner Brothers purchased the rights to the popular play, they immediately signed Davis to play the poet/waitress, Gabrielle and Howard as the dreaming philosopher, Alan Squire, who falls in love with Gabrielle. For the pivotal role of Duke, Warners wanted to cast Edward G. Robinson, a studio favorite and top-box-office performer. Davis and Howard were against the decision, stating that their former stage co-star Humphrey Bogart should play the role that he made famous on Broadway. Warner Brothers wasn't keen on the idea. Who was this Bogart anyway? He had no record of film experience and he wasn't terribly appealing.
Leslie Howard insisted that Bogart play Duke. He even threatened to walk off of the picture if Bogart wasn't hired. Despite his reservations, Jack Warner relented and cast Bogart. Wasn't he surprised when Bogart proved him wrong. This film introduced the world to Bogart and caused audiences to flock the theatres to see his understated performance which he based on real-life thug John Dillinger.
Bogart never forgot the fact that Leslie Howard was responsible for launching his film career. Later, Bogart and Lauren Bacall named their daughter Leslie in honor of Howard who had been killed in a plane crash during World War II.
The film is sublimely underplayed. Even Bette Davis gives a subtle performance which caused a reviewer from
The New York Times
to note, "Davis demonstrates that she does not have to be hysterical to give a grand portrayal."
While the film's theatrical roots are still evident (the picture is somewhat set-bound, rarely venturing from the diner set), it is much more successful than most films adapted from stage plays. The claustrophobic nature of the filming works with the plot and is a fascinating container for some of the most electrifying performances of early 1930's cinema.
at 9:04 AM

ads
guitarz.blogspot.com
: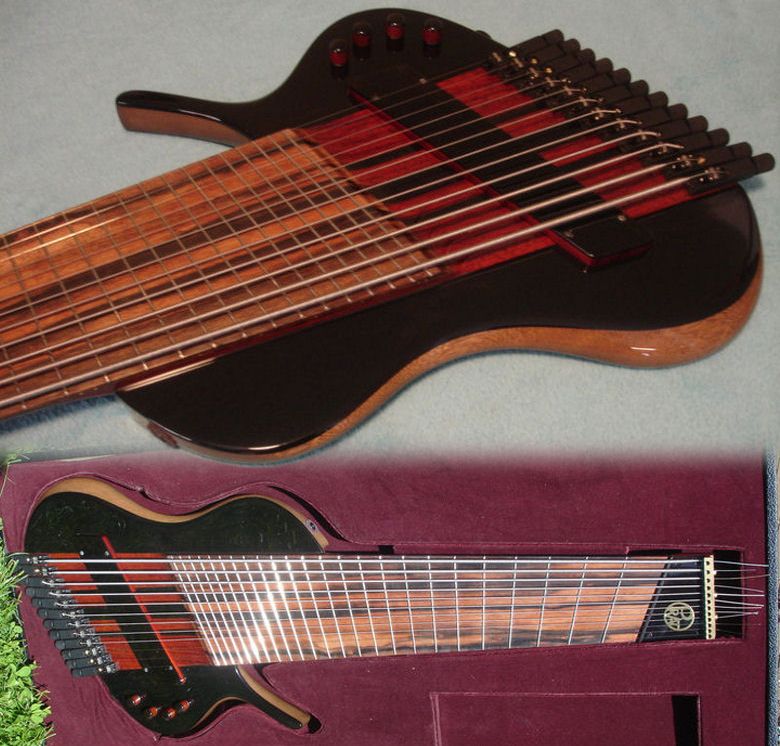 We've heard of 12-string basses before, but ordinarily (if such an instrument could ever be said to be ordinairy) they consist of four courses of tripled strings. This
Prat 12-string bass
is an ERB - Extended Range Bass - and has 12 individual courses.
Yes, such instruments can sound very nice, although I'm yet to be convinced as I've never heard a truly
incredible
(or even particularly memorable) piece of music made with one. Touchstyle instruments have been around for a long time (I can't imagine this Prat 12-er can be played any other way than touchstyle), but they've not really set the music world alight innovation-wise have they? They just remain an intrtiguing curio; the audience is more interested in the number of strings and unusual playing technique than the actual music produced. (Oh - prove me wrong, someone!)
This post originates at http://guitarz.blogspot.com - beware of those damned scraper blogs!
I've said it before and will very likely say it again: if you want that many strings, get a harp already!
G L Wilson
© 2011, Guitarz - The Original Guitar Blog - now in its 10th year!
ads
A close friend of Queen Elizabeth, the Queen Mother, and King George VI, the Honorable Mrs. Ronald Greville was known for her beauty, style and impeccable taste. Mrs. Greville was a keen collector of jewels, and during her life amassed an unprecedented assortment of diamond and gemstone pieces.
Upon her death in 1942, Mrs. Greville bequeathed her amazing collection to Queen Elizabeth, the Queen Mother. The Queen Mother presented her daughter (now Queen Elizabeth II) with many of the pieces from Mrs. Greville's collection on the day of her wedding in 1947.
This magnificent necklace was among those jewels given to Her Majesty on her wedding day. Created specifically for Mrs. Greville by Boucheron in Paris in 1907, the necklace of diamonds and bold red rubies is the epitome of Edwardian style with its floral pattern and dense settings.
The only change to the necklace since being presented to the Queen in 1947 is that it has been shortened by the two smallest, uppermost, flower clusters.
ads
This beautiful clockwork lady by Phalibois not only fans herself in time to the music played by the music box in her base, but she breathes and turns her head. In the Eighteenth and Nineteenth Centuries, such automata delighted young and old alike.
With all of our technology, we've never been able to replicate animated figures with as much charm and beauty as these early clockwork people.
at 8:23 AM

ads
Things were looking up for Mr. Punch. After the tragic mistake of faking the deaths of Robert, Mr. Punch and the child, the group of friends were finally on their way toward reuniting once again. Thanks to Marjani, Robert, Adrienne and the baby were safe and able to communicate with Mr. Punch and Cecil who waited for them. Barbara's change of heart and the assistance of Charles added strength to their fight. Despite the interference of Ulrika and Arthur, Marie Laveau, Giovanni Iantosca, and, of course, Iolanthe Evangeline, it seemed that Punch and Robert would be able to finally leave for England with "Colin" and start a new life.
But, all of that was soon to change. Robert, Marjani, Adrienne and Colin soon found a new threat in the strange alliance of Giovanni and Marie. As Giovanni threatened Robert with a knife, we were left wondering who would survive.
Meanwhile, Arthur and Ulrika revealed to Iolanthe the facts of the deception which landed her in prison. And, then, to make matters worse, Arthur set about his own agenda by drugging Ulrika with the very same herb she had used on him.
However, the biggest threat of all might just reside within Julian/Mr. Punch. From inside their shared body, Julian urged Mr. Punch to listen to a tale told by Naasir's spirit. As Naasir revealed that Punch and Robert were not destined to raise "Colin," Mr. Punch became distraught. Punch's grief was soon interrupted by a strange, new booming voice. Could it be that a third personality lives within that body? What could that mean for the future of Julian/Punch and their loved ones?
We'll get these answers this week as a surprising twist ends up changing everything forever. Come back on Monday for Chapter 251 of
Punch's Cousin
. If you've missed any chapters, you can read them in the
Chapter Archive
.
Many thanks to those of you who have been reading
Punch's Cousin
. I promise this week's chapters will not disappoint you.
at 8:11 AM

ads
You don't have to be famous or wealthy in order to be a star. Any of us can approach the world each day as if we're a celebrity.
Does that mean demolishing hotel rooms and running over valets? No. That means that we can all go into the world knowing that we're each remarkable in our own way. It means looking and acting your very best. And, it especially means that we have the ability to share our gifts with those around us. Part of being a star means giving of yourself—give your time and your talents to make the world more comfortable, more enjoyable and more fulfilling.
You may not get a marker on the walk of fame or put your footprints in cement, but you'll always be remembered as a generous and exceptional person.
at 7:59 AM

ads
In the 1990's, Warner Brothers had a chain of stores in malls around the U.S. which, when originally opened, carried reproductions of items from the classic Warner Brothers films. Of course, as is often the case here, the stores went the way of Disney and dumbed themselves down—featuring cartoon plush toys and a wide assortment of goofy stuff. I don't think they exist any longer.
However, this reproduction of a movie card from 1936's "The Petrified Forest" starring Bette Davis, Humphrey Bogart and Leslie Howard was among the many classic film souvenirs originally offered.
You'll learn more about this wonderful film in this week's "Sunday Viewing" article.
at 7:51 AM

ads
Glitz, glitter and glamour are on the menu for the upcoming week at
Stalking the Belle Époque
. From the vaults of The Royal Collection and the Victoria & Albert Museum, we'll be dusting off some of the most exceptional diamonds and jewels in the world. We'll take a look at the exquisite gems collected by Queen Mary and passed on to her granddaughter, Queen Elizabeth II as well as the sparkling creations which adorned Britain's most celebrated families.
Since we're playing dress-up, why not have someplace to go? How about London's beautiful Royal Albert Hall? This unusual building is not only a fitting tribute to Prince Albert, but also a temple of England's performing arts.
Unusual costumes and dramatic scenes will unfold as we examine the paintings, sculptures and fans which defined the fashions of their times. Similarly, we'll look at some of the films which have established trends in fashion across the world.
Speaking of world-wide trends, we'll continue our introductions to Mr. Punch's cousins across the globe. And, in our online novel,
Punch's Cousin
, we'll have some huge surprises which will alter the course of the adventures of our friends forever.
There's quite a bit in store for you and Bertie and I are looking forward to sharing it all with you! Here's wishing everyone a remarkable week.
at 7:43 AM

ads
Hosted by a pog featuring a FEROCIOUS DINOSAUR BATTLE.

This week's open threads have been brought to you by pogs.

("Why am I only seeing open threads?" Click here.)
at 6:00 AM

ads
The Doctor is the last of the powerful Time Lords. He is an intrepid traveller through time and space, armed only by his incredible intelligence and his fix-anything sonic screwdriver. He travels alone except for the human companions he befriends. Explore the vast interior of his mysterious time machine, the TARDIS. Join the Doctor in an exciting adventure full of puzzles, avoiding adversaries and collectible items to help outwit and overcome the unknown force that has boarded the TARDIS...
Doctor Who - Episode 3 - Tardis [FINAL]
Doctor Who - Episode 3 - Tardis [FINAL]
Doctor Who - Episode 3 - Tardis [FINAL]
Doctor Who - Episode 3 - Tardis [FINAL]
Thanks to Vovan
DOWNLOAD
http://hotfile.com/dl/118489809/a29324a/Doctor.Who-Episode.3-Tardis.rar.html
OR
http://turbobit.net/waivflzi7zbi.html
ads
I just had to order these fun bags to match my tent I bought last year. Going with my whole carnival/circus theme. I don't know what I'll put in them-but of course something fun. I can't wait to see all the stuff I've been collecting put together!
at 3:48 AM